OFFICE HOURS AT UAW LOCAL 95
TUESDAY, WEDNESDAY, THURSDAY-10:00 a.m.-3:00 p.m.
UAW/GM Benefit Rep. at Local 95 - Wednesdays 8:30 a.m.-1:00 p.m.


CHECK OUT . . Calendar update for February (link shown above)

In Remembrance Update: Each month at our General Membership Meeting we read the names of Local 95 members who have passed away. We ring the bell to honor them as a friend and a family member of our Local. We have been asked many times to share these names on our website, and are in the process of setting this up. In the mean time, we are attaching the names of those we have reported out at this year's monthly meetings.
(Please note that our reporting month in many cases are months after their actual date of death. We rely and get our information from our local newspaper and GM's death notifications furnished to us each month.) Click the following link: REMEMBRANCE

PRIMARY VOTING TOMORROW - TUESDAY, FEBRUARY 21ST. EVERS

RETIREE DAY: This month we will hold our Monthly Retiree Day on Thursday, February 23rd. From 10 a.m. until noon, we will have music and time to visit, Noon we will have a potluck lunch (bring your own table service and a dish to pass), and at 1 p.m. a short meeting to pass on vital information to our retiree membership. After the meeting, we will draw for door prizes and then on to cards or BINGO. Join us for a great day with friends!
SNOWBIRDS IN ARIZONA....GUESS WHAT TIME IT IS?
Yes, it's Snowbird Picnic time. The first Wednesday in March....so, it's March 1st.
Held, as always at Red Mountain Park, Mesa, AZ. (Look for sign at pavilion)
11:30 to 1:30 ~ Bring a dish to pass ~ Your own utensils ~ Your own Beverage (No alcohol, please - NO permit)

VETERANS - PLEASE TAKE NOTE:
Leaving NO Veteran behind! The Rock County Regional Veterans Treatment Court meets twice a month on Thursday afternoons at 3 p.m. in Courtroom D at the Rock County Courthouse, 51 S Main Street in Janesville.
The objective of the court is to give veterans who faithfully served their country a second chance by offering them treatment for their substance abuse and/or mental health issues rather than incarceration. This is done under intensive supervision of the Veterans Court team.
For more information, contact the Rock County Veteran Service Officer (John Solis) at 608-757-5551 or VA Justice Outreach Social Worker (Edward Zapala) at 608-320-2095.

OTHER HELP AVAILABLE:
- Are High Energy costs getting you down? The Home Energy Plus Program may be able to help. For more information in Rock County call (800) 506-5596.
- Limited funds and looking to purchase a reliable vehicle in order to get to work? Contact Community Action of Rock and Walworth Counties and inquire of their "Work N Wheels" program. Website: www.community-action.org or phone 262.728.8296, ext 207 (Anna Barber) to check your eligibity.
UPDATE ON THE NEW LEGAL SERVICES PLAN:
You can NOW open your new case using the UAW-FCA-Ford-General Motors Legal Services Plan...called "Plan".

To start your new case call this toll-free number: 800-482-7700.

It's important to take this first step to open your case and let the Plan know that there are many in this area that will be using this benefit.

Here is the actual Plan Information furnished to us at this point: PLAN


2017 GUN-A-WEEK CALENDARS ARE AVAILABLE FOR PURCHASE AT UAW LOCAL 95 UNION OFFICE FOR $25.00.
We still have a few left. There are many chances to win. For $25.00 you can have a chance to win a gun. This is a fundraiser for Local 95 Recreation Committee.
VETERAN'S NOTICE:
Show Pride In Your Military Service by filling out the application for the UAW Veterans Card. This card serves as a statement that you are a UAW member who proudly served in the U.S. Armed Forces.
Mail, email or drop off the application at your Union Hall and we will forward it to the International Union Retired Worker's Department. They will process your application and mail our card back to your Local Union. Once we receive your Service Card, we will contact you for you to pick it up.
To see the form and print off, click on: Service
BENEFIT REP MIKE FEIRN'S UPCOMING HOURS AT LOCAL 95:.
Benefit Rep. Mike Feirn has hours of 8:30 a.m. until 1 p.m at Local 95 on Wednesdays
Wed., January 25th....8:30 a.m. until 1 p.m.
Wed., February 1st.....8:30 a.m. until 1 p.m.
Wed., February 8th.....8:30 a.m. until 1 p.m.

We all know, that things can come up that might change the above schedule, so if you are traveling some distance, please call the Local 95 Office 608-755-5120 and listen to the recording. If Mike won't be in, we will have it on the recording and on our webpage.
To reach him at his Region 4 Office, please call 1-866-782-6512
OIN US!!
ANYONE CAN JOIN OUR UAW LOCAL 95 VETERAN'S COMMITTEE. WE WOULD WELCOME NEW MEMBERS!! CALL THE UNION HALL FOR MORE INFORMATION, 608-755-5120, EXT 111.
*************
WE HAVE BEEN ASKED QUESTIONS ABOUT UAW/GM LEGAL SERVICES: Here is what we have at this time to report to our membership regarding the Legal Services:
A new Legal Services Plan was negotiated under the recent UAW-GM, UAW-Ford and UAW-FCA contracts. The new Plan will be a multi-employer Plan and UAW represented members of GM, Ford and GCA will be eligible to participate in the Plan. Since it will be a new Plan, a Trust must be created, regulatory papers must be filed with the IRS and other steps must be taken before new cases can be opened or previous cases reopened.
It is hoped that these steps can be completed within the next several months. Once opened, the new Plan will be able to complete "office legal work" such as the preparation of wills, power of attorneys, prenuptial agreements, real estate documents, as well as handle other uncontested family matters and provide advice and draft letters for many types of personal legal problems including credit reporting, probate matters, consumer matters and real estate matters. If something cannot be handled by the "office work benefit", then the new Plan will be able to provide members with a low cost referral to a private attorney who has signed a contract with the new Plan to provide services to eligible UAW members at a substantially reduced rate.
When the start-up date becomes known all local Unions and Retiree Chapters will be provided with specific notice.
HALL RENTALS: We want to remind everyone...we still have dates available for 2017 and have opened up 2018 for the rental of our Union Hall. We have "special rates" for our UAW members and "Other Union" members and a very reasonable rate for those not union affiliated.
Look over this: Hall Rental Information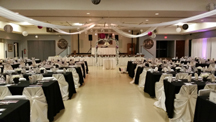 Call us at 608-755-5120, ext. 111.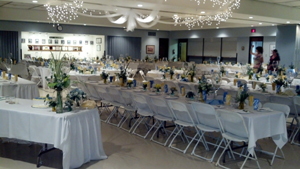 Looking for your Perfect Reception Hall?: Just imagine, you could be holding YOUR wedding reception in this beautiful Hall. Call 608-755-5120 ext. 111 to get more information. Special rates for our UAW Local 95 members and their immediate family. Start your plans with a call to us!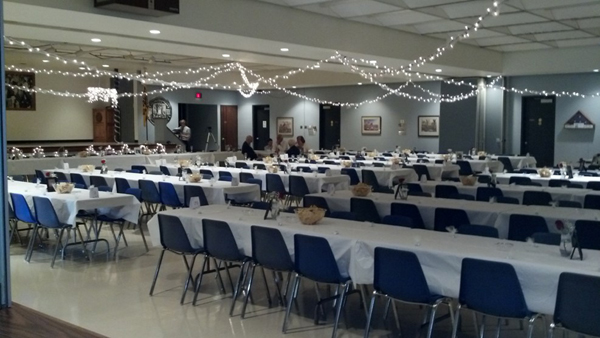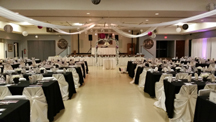 WE CAN MAKE YOUR DAY SPECIAL!

ECHO DONATIONS:
The Local 95 Community Service Committee is collecting non-perishable food items for ECHO and would like your assistance.
We have an ECHO barrel located just inside the doors coming into the Local 95 Office. Simply place your items in the barrel and we will see they are delivered to ECHO.
As always, we appreciate and thank our members for their kindness and generosity.
Any questions, please contact the Union Hall at 608-755-5120, ext. 111.
Benefit Rep. Mike Feirn: Mike has regular hours of 8:30 a.m. until 1 p.m. on Wednesdays at UAW Local 95.
We always tell our members to please call the Union Hall at 608-755-5120 before making the trip to the Union Hall to see our Benefit Rep. If there are any unforeseen circumstances which come up that would keep Mike from his regular hours...we will have it posted on this website, the Local 95's Facebook and on the phone recording at the Hall. Our way of trying to keep our membership in the loop and updated.




Workers Compensation Attorney: The Gillick, Wicht, Gillick & Graf, Injured Worker's Law Firm, has discontinued their scheduled hours at Local 95 every other month. They ask that you contact their office in Milwaukee via their toll-free phone number (800-942-2880) and schedule an appointment date and time to meet with them, making their trip to Local 95 more cost and time efficient. Again, they can be reached at toll free number 800-942-2880.